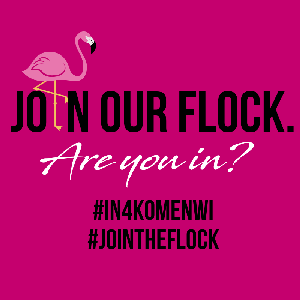 JOIN OUR FLOCK ON GIVING TUESDAY ~ Tuesday, November 27!

In the coming year, 4,700 Wisconsinites will be diagnosed with breast cancer, and 700 neighbors will die from this disease.

This is #UNACCEPTABLE.
This is why we are asking ARE YOU IN?
We have a FUN day planned for you on Giving Tuesday and hope to have 50 people donate to Komen Wisconsin.
So watch for all the surprises and
Join our Flock!
View More