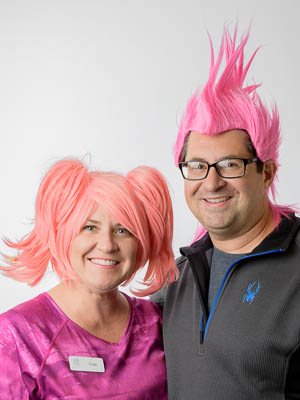 Name: Dr Kaveh and Trisha Ghaboussi
Title: Dentist and Dental Hygienist
Company: Madison Smile Solutions
Fundraising Goal: $5,000
Why are you participating?
At Madison Smile Solutions, your friendly neighborhood dental office, we believe in overall wellness. When we see you for your dental appointments we are getting to know you as a person, hearing your story, and helping you feel confident and healthy when you smile. We've all had family, friends, and watched patients battle with breast cancer. We've seen the ups and downs. Last year, we participated in Big Wigs and it was refreshingly eye opening. In a world of social media, along with the daily grind, we can sometimes forget about the goodness in others. Last year, we were excited to see the outpouring of generosity of people as they helped us raise money for Susan G. Komen. Our patients contributed a lot, our team, and random strangers all helped by throwing a dollar or ten our way. It's a nice reminder that we, as a society, do want to help and support each each other.
Where might we find you with this pink wig on?
Dr. Kaveh and Trish will likely be rocking their wigs at work. Is there anything better than getting your teeth checked out by your dentist with a pink mohawk? We also will be out and about chasing after our kids and their activities! As mentioned, we are your friendly neighborhood dentist - so you'll see us riding our bikes to supporting local businesses in town.
What will be your competitive edge against your competitors?
Our competitive edge is that we are committed! We did this last year. We know what it takes and are excited to be pinktastic! Also, you know what goes great with pink hair? White teeth!!
View More