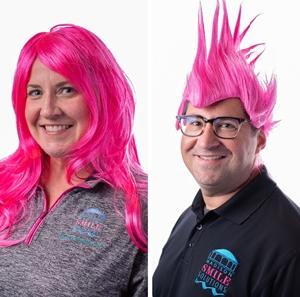 Name: Dr Kaveh and Trisha Ghaboussi
Title: Dentists
Company: Madison Smile Solutions
Fundraising Goal: $5,000
Why are you participating?
We are a dental office that focuses on dental and overall wellness. Most of our team is female so bringing awareness to breast cancer and screening is in line with our beliefs. We've all had a family member, friend and countless unbelievable patients fight the breast cancer battle. We are happy to help in any way we can.

Where might we find you with this pink wig on?
You will find us sporting these wigs at our dental office out and about. When you check in for your same day crown or adult orthodontics we will be sporting the pink wig! You might even catch a glimpse of us at a local happy hour or soccer game. We will be hard to miss.

What will be your competitive edge against your competitors in the Big Wigs?What goes great with pink hair …White teeth and big smiles. We like to see people smile so we will be enjoying this PINKTASTIC fundraiser!

View More