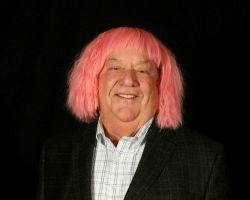 Name: Steve "Saz" Sazama
Title: Founder
Company: Saz's Hospitality Group
Fundraising Goal: $5,000
Why are you participating?
I've seen the effects of a diagnosis on people very close to me - family and very close friends. I've seen how it affects not only the person with breast cancer, but all of the loved ones who care so much for them. I am proud to wear this wig in honor of all of those who have faced this monster of a disease with strength and bravery, and in celebration of those who beat it. They are truly "The Finest." Plus, the competition sounded fun. And at Saz's, we're all about the fun. When it's fun for a great cause? Even better.
Where might we find you with this pink wig on?
Behind the Round Bar at Saz's State House, most likely. Usually on Fridays. We're doing a remodel and update of the tavern starting after brunch Sunday 3/5 and re-opening 3/16, so you might see me around town while all of that is going on. Maybe at our Catering building in Walker's Point, or over at Sazama's Fine Catering at the Marcus Center for the Performing Arts - maybe getting ready for summer at State Fair or Summerfest if the weather cooperates.

What will be your competitive edge against your competitors?
We've been around for a while at the tavern - 41 years on March 1st - so we've seen a lot of customers turn into friends who feel like family. I mean, we're in the business of making sure people enjoy themselves with the finest food and service around. Many of those friends have had personal experience with breast cancer, so we're all in this together. And really, no matter who wins, we all win. And that's the real meaning of "The Finest."
View More